<< back
The environmental protection program has been an obvious topic for us for many years. Thanks to long-term conceptual work and continuous investment in the environmental protection projects as well as modernization of production facilities, TŽ has successfully continued to reduce its negative impact on the environment.
We consider compliance with all requirements of the legislation and valid environmental permits, including all emission limits, to be absolutely obvious. This is evidenced by measurement results performed by the accredited laboratories. TŽ production facilities are also operated at the level of best available techniques for the production of iron and steel, according to the EC Decision 2012/135 / EU.
In the field of air protection, dust emissions have been significantly reduced by more than two thirds in recent years, following a series of environmental investment projects. Today, all major sources of pollution are equipped with modern fabric separators. Emissions of polycyclic aromatic hydrocarbons and dioxins were also significantly reduced. Other new projects to reduce air emissions are being prepared.
TŽ is also an active participant in the European greenhouse gas emission allowance trading system, in accordance with Directive 2003/87 / EC of the European Parliament and of the Council of Europe. TŽ is a World Steel Association certified member, contributing to the efforts to reduce CO2 emissions. Annual setting of energy savings and energy efficiency targets is an integral part of TŽ policy, which has a positive impact on reducing greenhouse gas emissions.
In the field of water protection there is an effort to use this natural resource economically. Therefore, closed water circuits are built at all TŽ production plants to ensure industrial water recirculation. All industrial waste water is monitored and handed over for cleaning to other entities in accordance with the relevant sewage regulations.
A number of wastes, including hazardous wastes, are generated in Třinecké železárny. Waste is handled in full compliance with applicable legislation. The aim is primarily to prevent the generation of waste and, if this is not technically or economically feasible, ensure that the waste generated is recovered materially or energetically. Landfill is limited to landfills and is only accessed if no other method of disposal is possible.
Recently, the production of TŽ waste has been reduced by utilizing residual materials from the production of iron and steel as by-products again in the metallurgical cycle.
An important part of the environmental protection program is also the care of greenery in the company premises, respect for the bio-corridor of the Olše River and their tributaries, as well as protection and support of wild animals.
The environmental management system has been established, maintained and developed by TŽ in the long term, now according to EN ISO 14001: 2015. This system is an effective tool for continuous improvement in the field of environmental management with an emphasis on priority solutions to significant environmental aspects. TŽ also has an energy management system in accordance with the EN ISO 50001: 2011 Standard.
Emissions discharged to the air 1980-2020 (t/year)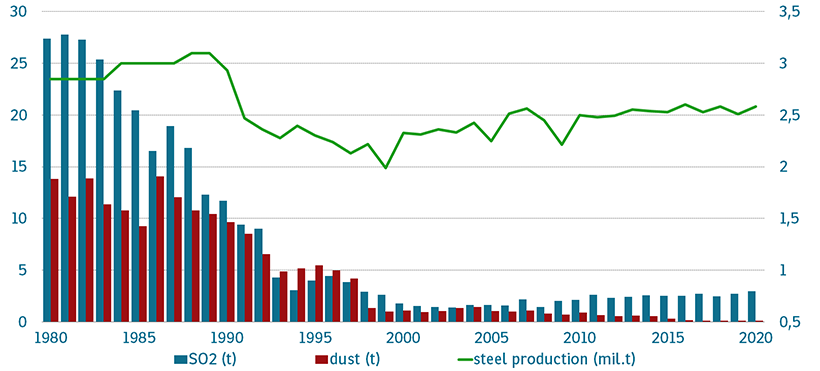 Corporate Social Responsibility Report

Corporate Social Responsibility Report 2020, pdf 5.4 MB
Corporate Social Responsibility Report 2019, pdf 4.4 MB
Corporate Social Responsibility Report 2018, pdf 3.5 MB

Declaration of Třinecké železárny - chemical legislation, harmful substances, radioactivity
REACH Declaration
Statement on Registration of Substances – Regulation ES No. 1907/2006 REACH
Manufacturer Declaration - EU Directive Reg. No. 2011/65/EU
Information about Providing Safety Data Sheets
Leadership in Energy and Environmental Design
Harmful substances
Nonradioactivity Certificate